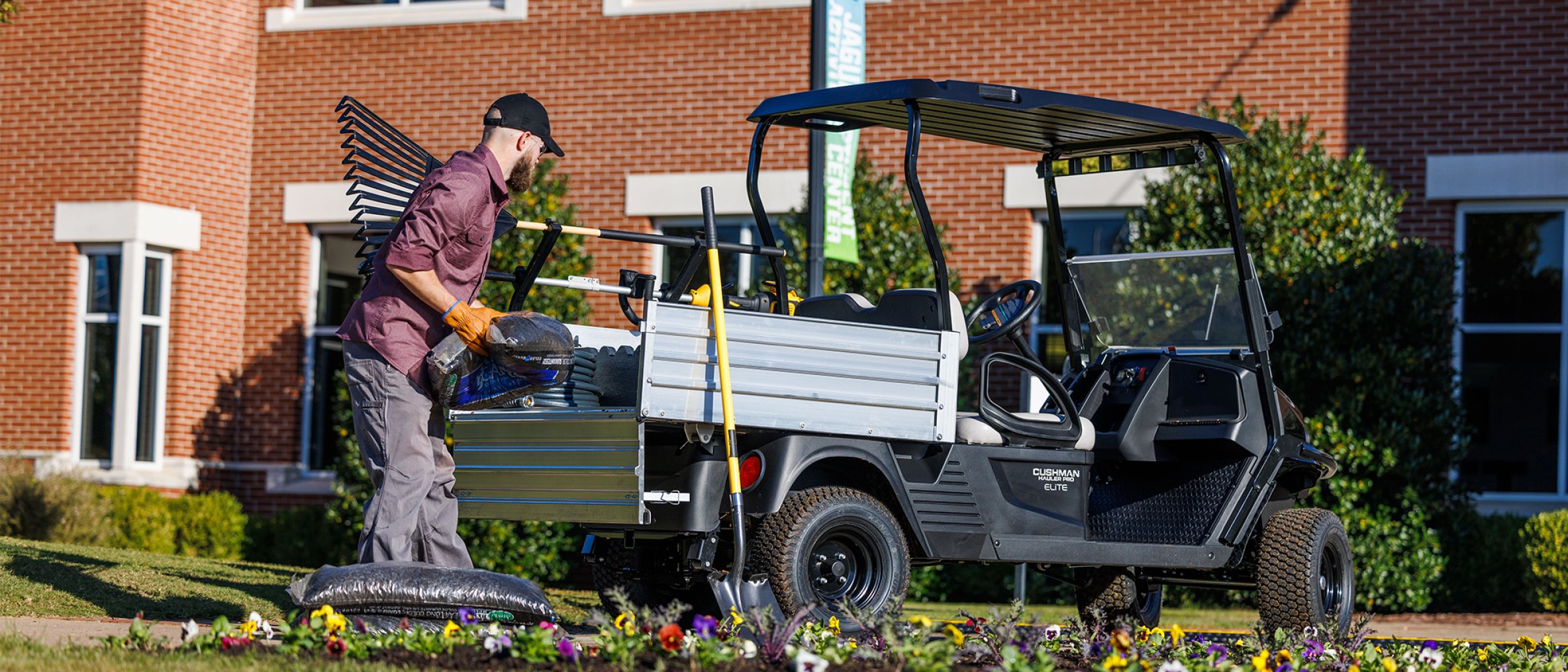 Cushman® has a long history of successful support for our federal, state and local agencies. In addition, Cushman purchases are backed by a wide dealer network for sales and after-sales product support.
Cushman vehicles are available for discounted purchase through federal and state government, and cooperative contracts. Government contracts are open to federal, state, municipal and non-profit agencies nationwide. Depending on the contract we offer several vehicle options manufactured by Textron Specialized Vehicles, including Cushman, E‑Z‑GO, and Arctic Cat.
For quote requests, special pricing or general government sales questions contact the Government Sales Manager.
Brittney Booz
GOVERNMENT CONTRACTS
GSA-FEDERAL GOVERNMENT
Contract Number: GS 03-F-066DA
Expiration Date: 2/28/2026
For more information about GSA Advantage visit:
https://www.gsaelibrary.gsa.gov/ElibMain/contractorInfo.do?contractNumber=GS-03F-066DA&contractorName=TEXTRON+INC.&executeQuery=YES
COOPERATIVE CONTRACTS
BUYBOARD PURCHASING COOPERATIVE
Contract Number: 611-20
Expiration Date: 5/31/2023
https://www.buyboard.com/home.aspx
OMNIA PARTNERS
Contract Number: R210201
Expiration Date: 09/30/2024
For more information about Omnia Partners cooperative contract visit:
https://www.omniapartners.com/publicsector/contract/supplier-contracts/e‑z‑go-and-cushman
SOURCEWELL
Contract Number: 122220-JCS
Expiration Date: 1/29/2025
For more information about Sourcewell cooperative contract visit:
https://www.sourcewell-mn.gov/cooperative-purchasing/122220-jcs
STATE CONTRACTS
Arkansas
Contract Number: R210201
Expiration Date: 09/30/2023
For more information about the Arkansas state contract, visit:
https://www.transform.ar.gov/wp-content/uploads/2022/04/Contract-Details-Ben-Nelson-Golf-and-Outdoors.pdf
CMAS
Contract Number: 4-16-78-0081A
Expiration Date: 2/28/2026
For more information about the California multiple award schedule, visit:
https://cmassearch.azurewebsites.net/
florida
Contract Number: 21100000-15-1 
Expiration Date: 12/31/2023
For more information about the Florida state contract, visit:
https://www.dms.myflorida.com/business_operations/state_purchasing/state_contracts_and_agreements/state_term_contract/agriculture_and_lawn_equipment/complete_contract_contracts/complete_contract_textron_specialized_vehicles_inc
GEORGIA
Contract Number: 99999-SPD-SPD0000175-0003 
Expiration Date: 04/07/2023
For more information about the Georgia state contract, visit:
http://doas.ga.gov/state-purchasing/statewide-contracts
Louisiana
Contract Number: 4400025604
Expiration Date: 10/13/2023
OKLAHOMA
Contract Number: SW0194
Expiration Date: 12/14/2022
For more information about the Oklahoma state contract, visit:
https://www.ok.gov/dcs/solicit/app/solicitationDetail.php?conID=2649