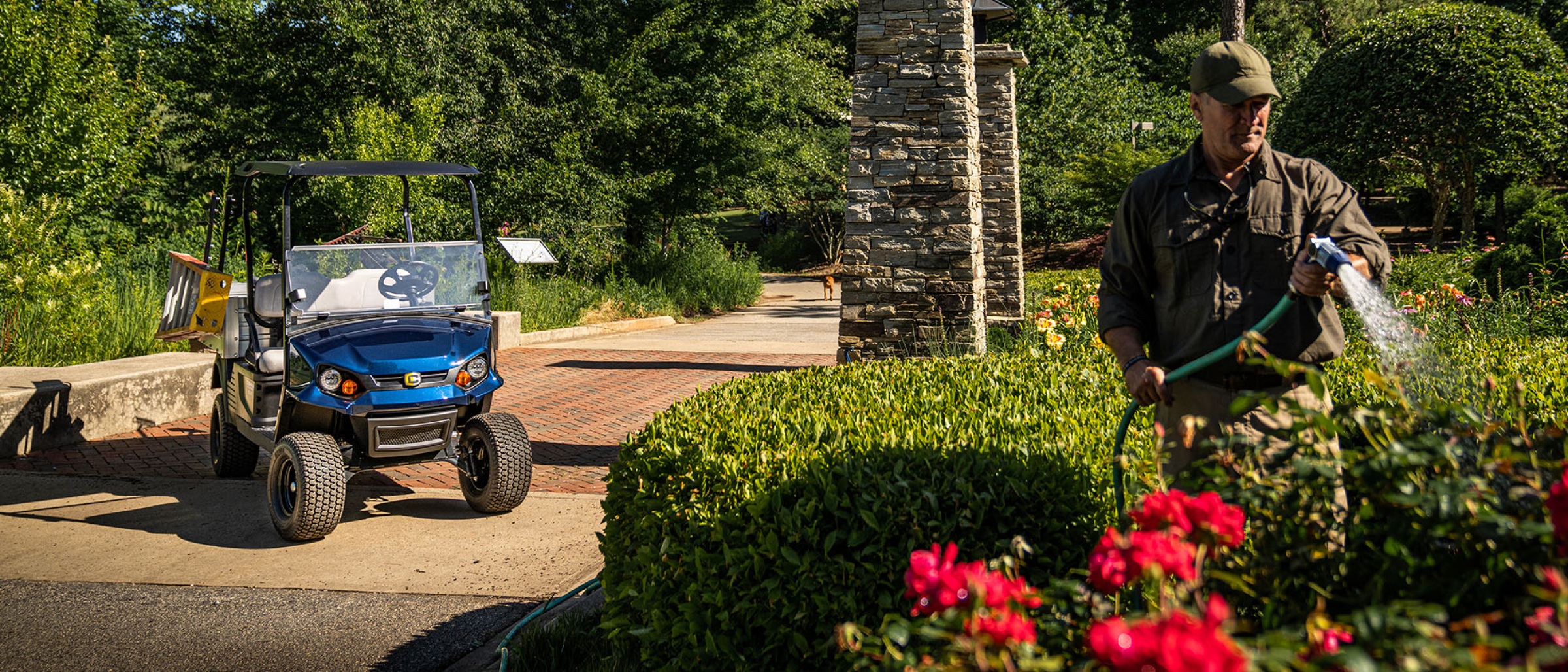 Owning a Cushman vehicle has never been easier thanks to our special financing options. You're one step closer to your Cushman with the exceptional financing offers. These offers are subject to credit approval. Some restrictions apply, ask for details.
Commercial Financing options
Our commercial financing options are backed by Wells Fargo, one of the nation's largest leasing providers. Together, we make it easy to add vehicles to your lineup on terms that meet your business objectives.
Fair Market Value Lease
The Fair Market Value Lease (FMV) option may be best for businesses that intend to replace their equipment every 2-5 years. At the end of the term, customers have the option to return the equipment and upgrade to new equipment, continue leasing at the monthly rate, or purchase the equipment at FMV. Please contact your local dealer or visit this link for more information.
$1 Buyout Lease
The $1 Buyout Lease option may be best for businesses that intend to own the equipment free and clear of interest at lease end. This option may help to manage cash flow and credit lines for essential business expenses. Please contact your local dealer or visit this link for more information.
CONSUMER FINANCING OPTIONS
We offer attractive consumer financing rates through our financial partners, helping every customer get the financing they need.
Sheffield Financial
Sheffield Financial provides fixed, straight, and installment loans for the purchase of Cushman vehicles. Sheffield offerings include:
0% Interest for 36 months
1.99% Interest for 48 Months
3.99% Interest for 60 Months
See Sheffield Promotional Disclosure for additional details.
Yard Card Financing 
Yard Card financing is a revolving credit-card program. Qualified buyers who are approved for a Yard Card can receive the following terms* on purchases of new Cushman vehicles:
0% APR for 48 Months with Equal Payments*
*Minimum purchase $1,500. There is a promotional fee of $125 for this transaction.  See Yard Card Disclosure for additional details.
Roadrunner Financial
Roadrunner Financial offers full-spectrum financing for Cushman customers with prime or near-prime credit. Instant approvals and easy closing so you can get your new vehicle faster.
1.99% Interest for 48 Months
3.99% Interest for 60 Months 
FreedomRoad Financial
As a national powersports lending company, FreedomRoad Financial offers competitive low rates and extended-term financing.
Simple interest contract with no prepayment penalties or early pay-off fees.
Flexible promotional offers on select Cushman vehicles.
Fast and easy application and contract process.
Backed by a 5-Star Rated Bank.
All rates/transactions are subject to final investment/credit approval by Wells Fargo and the execution of mutually satisfactory definitive documentation.  A documentation fee will apply per lease or loan agreement. Please call for a rate quote on transactions greater than $250,000. Dealer must apply any fees, rate participation, or rate support in compliance with all fair-lending laws and applicable caps. The rate factors, base rates and other information set forth above may be adjusted by Lessor/Lender at its sole discretion, in any amount and at any time before the commencement date of the financing agreement and Lessor/Lender will notify you of any such adjustments.